Components Bought
To start with, decided and bought the following:
Motherboard : VIA MII (PC card)
Combo CDRW/DVD Drive : Panasonic Slimline
PSU and DC-DC Converter Kit : Morex 60W
RAM : 1 GB PC2100 DDR DIMM
Hard Drive : 60 GB Slim (Laptop) HDD
Remote Control : X10 RF Remote (similar to ATI All-in-Wonder Remote)
Slimline CD to Desktop IDE Adapter (To connect the slimline CD / DVD player)
2.5in to 3.5in IDE Cable (This is required because I have a laptop hard drive)
Zalman FAN MATE 1 fan speed controller (To reduce fan noise)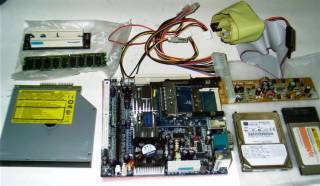 From left, the CD / DVD drive, the motherboard, Hard Disk Drive and the Wi-fi connector. On top, the RAM and the dual Riser card (since the Epia M II has only one PCI slot), the IDE cables, and just below them the Power Supply Unit without the power brick.
Decided to spend the most on RAM, as that is one thing that I wouldn't want to waste time (and money!) later upgrading. The Hard Drive I had already, from when a laptop hard drive became too small for everything.
I've always loved a slot loading CD / DVD drive, so went in for that. And the remote I had also bought earlier to control music on my current dekstop.
The Morex 60W Power Supply Unit is coupled with a Universal Voltage brick, so I can use it anywhere. Also, since both the hard drive and CD / DVD drive are slimline, they need less power, so decided against a more powerful power unit.